The Best Fall Colours Family Portrait Photo Locations in Toronto
by Storey Wilkins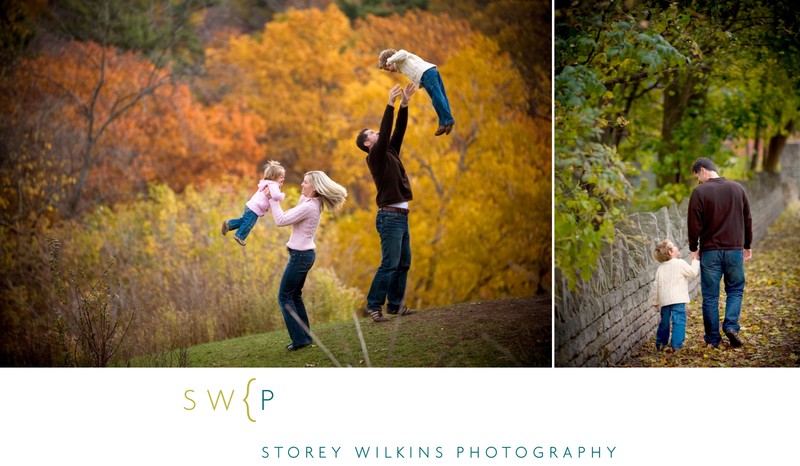 Time of Year
Autumn is the best time of year for your annual professional family portrait session. The sweet spot in the GTA tends to be the last two weeks of October and the first two weeks of November. That is when our colours peak. If you live north of the city, then you want to book your session up to one month earlier.
In addition to the great range of yellows, greens, reds and oranges on the trees, the soft light that comes with overcast days makes for nice lighting on your faces. The key is picking the:
right location,
right weather conditions,
right time of day, and of course the
right angle.
Vantage Point
Think about it, the colours are up high on the trees and you are down on the ground. Having the colours in the background means that you have to be up high with the leaves. There are a few sneaky ways to achieve this vantage point, and a great professional family photographer knows how to achieve this for you. No DIY solutions here I am afraid.
DI-Why???
Speaking of DIY, don't be fooled by claims that you can DIY your own family portrait and get holiday card worthy photographs. Many of my clients have tried and failed and have come to me desperate to redo the session without the antsy kids, impatient spouse, the rushed self-timer, out of focus shots that are either under or over-exposed, where at least one member of the family has their eyes closed…need I continue. Spend the money. Do it right the first time. Get the perfect fall family portrait and enjoy the experience with me as your professional photographer.
Busy Families
Late October means your kids will be in full swing with their skating, hockey, basketball, football schedules…need I continue? Many of my hockey families tend to book their session when they know they have a free late afternoon (weekday or weekend). They usually know this by the second week of September when their practice and game schedules are announced so my fall schedule starts to book up about 6 weeks beforehand. Its always best to book your session as far in advance as you can.
To Permit or not to Permit
Sadly, no list is complete without mentioning the park permits and unfortunate fees that are required for formal photography of any kind. Your first thought is probably, can I get away with not getting a permit? Unless you are completely inconspicuous and look like you are just taking a casual stroll, you could be asked to leave if you are taking photos without a permit. This is true for DIY'ers as well as families who have their own photographer there.
Here is a starting point to contact the City of Toronto Park Permit People:
https://www.toronto.ca/311/knowledgebase/kb/docs/contacts/parks-forestry-and-recreation/contact-list-pf-and-r-management-services-customer-service-permits.html
I wish the city was more clear about what they mean by "formal photography." I get that a big photoshoot with big lights and lots of gear would require a permit, but I don't think a family photographer with a modest camera bag over the shoulder and the occasional reflector and speedlight should necessitate a permit. So, I usually meet my clients at the park and proceed as planned without a permit. It is your call if you would like to secure a permit in advance, just in case.
Location Location Location
So now that you have a date picked and it's on both of our calendars, the next step is to pick your location. Finding the perfect outdoors backdrop is key. Fortunately, Southern Ontario's legendary fall colours can be seen in at least 10 Toronto locations that offer a slice of that beauty and can be reliable locations for your fall family photos.
EVERGREEN BRICK WORKS
The Evergreen Brickworks in the heart of the Don Valley is close to where I live and one of my favourite spots in the city to wander around. Evergreen Brick Works is Canada's first large-scale community environmental centre. An old quarry and brick manufacturing facility on the heart of the Don Valley, it is a dynamic venue for exploring ideas and leading-edge green technologies, and a vibrant public space where visitors can engage in a broad suite of hands-on environmental programming.
Since 1991, Evergreen has been focused on revitalizing outdoor spaces into green, sustainable places for everyone. Beginning with a national tree planting strategy, they have developed a unique approach in connecting people, natural and built worlds. There is something going on at the large indoor/outdoor space all year long.
Evergreen Brick Works is now a hub for learning and showcasing sustainable practices that also includes much of the green space surrounding the site. Beyond the site boundaries, Evergreen has been managing programming and public art in the Don River Valley Park, a 200-hectare park spanning Pottery Road to Corktown Common.
The wetlands out back behind the buildings are where I head with my clients. The natural grassy backdrop, ample fall colours, and winding trails are nice for family photographs. I tend to stay away from the brink buildings unless my clients want to pay the $350 for a photography permit. We have to fall under the category of "casual day out with the family" photography in order to avoid the permit.
If arriving by car I recommend parking in the West parking lot. Be sure to buy a parking ticket from the meter. There is a low red brick wavy wall at the West entrance to the Brickworks where I would meet you. Be sure to wear comfortable shoes as we will be walking a fair distance. There are public washrooms on-site which helps, and if we are there during the day you can treat the kids to hot chocolate afterwards at Café Belong.
SHERWOOD PARK
Located in the valley of Sherwood Park (think Mount Pleasant to Bayview just south of Blythwood Avenue), this deeply wooded park winds its way down towards the Burke Brook (stream) at the bottom of the park. It has two wading pools, great walking or running trails, public bathrooms (only in the summer sadly – thanks Toronto), picnic tables and a large playground. The wading pools are located downhill from the park entrance and are spacious with several spray features for all to enjoy. This is fun for a mid-summer kids portrait session.
There is a big dogs off-leash area at this park so if you are not dog lovers let me know as this might not be the right spot for your family photo shoot. Free parking is available at the front of the park, near the main entrance on Sherwood Street east of Mount Pleasant Avenue.
I lived right next to Sherwood Park for years and I absolutely love this park. It has a quiet cool relaxed vibe to it. There are two sections to the park, both accessed easily from the free parking area at the end of Sherwood Avenue. I usually meet clients in the parking area and then stroll park the beautiful stone wall to the entrance at the end of Sheldrake Ave. It is there that the upper landing grassy area leads out to a distant view of the tops of the trees, and creates a great fall foliage visual that is difficult to find elsewhere.
There are no bathrooms up at this end of the park so make sure you all go to the bathroom before you arrive. You might want to bring a picnic blanket too as there is not much in the way of seating.
ALEXANDER MUIR MEMORIAL GARDENS
Website for Alexander Muir Memorial Gardens
Map to Alexander Muir Memorial Gardens
A Hidden Gem for Family Photography
Located right below the bustling intersection of Yonge St and Lawrence Ave in Toronto, and nestled in behind huge privacy hedges, Alexander Muir Memorial Gardens at 2901 Yonge Street (Toronto, ON) is the ideal spot to meet me, a local photographer, for your annual family portrait.
The tree tiers of foliage, stone walls, archways and natural gardens provide a variety of backgrounds and the shade from the big trees is great for soft natural lighting (a photographer's dream). There is free street parking on Dawlish Ave where you can walk down the nature trail towards the centre of the park. You will want to use the bathroom before you arrive, however, as the closest washroom is in the Starbucks at the corner (a 4 minute walk from the entrance).
The best time for portraits at the park are weeknight early evenings where the light is low and the park is near empty. Within the hour we will have a collection of natural, thoughtful and joyful images that your will love. I will even try to find a maple tree to include in a background, as a tribute to Alexander Muir who composed the song, "The Maple Leaf Forever." Go Canada!
For fall family portraits this will not provide the explosive colour that some parks have as it is mostly evergreens, but there are some patches that are usable and its great for families who live nearby in Lawrence Park, Lytton Park and Bedford Park. I recommend you feed the kids first at around 4:30pm and them meet me there at 5:00pm. Any later and we loose the light that time of year.
SUNNYBROOK PARK
Sunnybrook Park is within walking distance of my place. It is a large public park in Toronto, Ontario, Canada and is located north of Leaside and south of the Bridle Path areas of the city (near Sunnybrook Hospital). The park is home to many bike trails, dog parks, and the awesome Burke Brook that runs through it.
In terms of its history, the property was once a 175 acre farm property with horse stables, known as Sunnybrook Farm in Leaside. It was owned by Joseph and Alice Kilgour and it was turned over to the City of Toronto in 1928. Kilgour was President of the Canada Paper Company and acquired the farm in 1890s. There is still a plaque at the Wilket Creek Park entrance to Sunnybrook Park that commemorates the Kilgour family's legacy and presence in the area.
Given the vast size of this park, it is important to pre-determine where to meet up. I recommend arriving by car, entering through the Leslie Street entrance and parking across from the old horse stables (see map). There is a bathroom there but it is only open in the simmer (sigh) so you may want to go to the bathroom before you arrive. Wear comfortable shoes as we will be strolling quite a bit.
There are some small tree covered paths that lead up to the upper plains of the park and these paths get quite vibrant with fall colours from mid-October to Mid-November. The effect is a rather myopic and intense colourful backdrop for your family pictures.
ROUGE NATIONAL URBAN PARK
Website for Rouge National Urban Park
Map for Rouge National Urban Park
This massive park offers many exciting photo opportunities and all that space makes it more likely that we can find a quiet nook of our own in which to take photographs. The park is run by the federal government, so no need to worry about Toronto's rules around professional photo shoots. Rouge Beach, at the southern tip of the park, is great if you want to have the small lake in the background, while Glen Eagles Vista Trail is an easy hike that will give us the opportunity to create some portraits with the Rouge River, Little Rouge Creek and some impressive bluffs.
MOORE PARK RAVINE
Home to the last leg of the Beltline Trail, the Moore Park Ravine at 205 Moore Ave, Toronto, ON M4T 2K7 is located just south of Mount Pleasant Cemetery (and running down to the Evergreen Brickworks). It's a hard to find entrance in midtown Toronto and once you enter it feels like you're deep in the woods thanks to all of the lush tree growth. In the fall, the ravine bursts with colour. Again as I stated above, finding colour that is an ideal backdrop for family photos is tricky and not every stretch of this ravine works well.
I prefer to meet clients at the subtle eastern entrance to the Heath Street Pedestrian Bridge which can be found at Heath Street and Hudson Drive, or accessed from the other side of the bridge in Bennington Heights. The bridge is a fun first stop for photos and then we can descend into the ravine and walk along the path beneath a wonderful tree canopy of oaks, maples, and beech trees.
The path is well used by joggers, bikers, and dog walkers taking their dogs for a stroll along the creek, so I am always look for safe spots to get off the trail and spread out for a photo session. If your family is willing to walk far enough (at least 10 minutes) we will come to the underside of the Governor's Bridge remains which can be fun for a backdrop.
Again, so the bathroom before you arrive as there are no public washrooms around, that I know of.
COLONEL DANFORTH PARK & LOWER HIGHLAND CREEK PARK
website for Colonel Danforth Park
Colonel Danforth Park located at 73 Colonel Danforth Trail, Toronto, ON M1C 1P8 has a thick tree canopy that explodes with colour in the fall. It is a huge park that blends right into Lower Highland Creek Park to the south. Highland Creek runs through both parks and can be a nice background for photographs. There are a bunch of trails we can take to get to the creek. In terms of where to meet, when you enter the park drive to the very last parking lot and let's meet there. We can then enter the trail that follows the creek to Lake Ontario. The trail is mostly flat and paved. There are a couple of dirt and gravel sections, but these areas are still easy to navigate. There are several places along the trail with benches or rocks to rest and admire nature. Facilities are located at the parking lot.
EDWARDS GARDENS
Located next to the Toronto Botanical Gardens at 755 Lawrence Ave E, North York, ON M3C 1P2, this beautifully manicured park has well-groomed lawns, clipped hedges and picturesque arched bridges that span over tranquil Wilket Creek. I find that many of the park's trails are paved and relatively smooth, i.e. stroller-friendly. However, on a nice day most of the paths are in full open sun. This means we will likely head off path to find shadier nooks in which to provide flattering light for you. Since this is a City of Toronto park, it technically requires a permit for formal photography so I will be carrying minimal equipment and looking rather unassuming for our session so that we meet the "casual family photos" criteria and therefore do not need a permit.
There is a huge parking lot with free parking so its best to meet at the park end of the lot and then stroll from there. The botanical gardens offer lovely backdrops before we head into the main park, but we will use these sparingly if allowed. There are public washrooms at the top of the park that you can use before we head into the main area.
HIGH PARK
This really is Toronto's premier park. With the beautiful expanse of park, also comes the expanse of visitors to the park so I find the main scenic locations are usually pretty crowded, such as the maple leaf garden at the bottom of the Hillside Gardens, the waterfall and bridge located between the café and Grenadier Pond and the manicured hedges and water features found just southwest of the Colborne Lodge Drive and Hillside Road. As an alternative, I usually opt for the quieter nature paths. I normally recommend parking somewhere on High Park Blvd and walking into the park at the High Park Blvd entrance. I will meet you there. In the summer months there is a park washroom right there which is handy. During the shoulder seasons be sure to use the washroom before you arrive. The kids of photographs that I take in the park are on quiet narrow paths surrounded by tall grass. The park is known for its cherry blossoms in the spring, but as this is an article on fall family portraits I won't go there. Contact me for the do's and don'ts of portraits with the cherry blossoms.
GRANGE PARK
If the idea of a long trek into a ravine or nature reserve does not suit your family, then consider an urban classic like Grange Park. This newly renovated historical park at 26 Grange Road (Dundas St. W and Beverley St) is set right behind the Art Gallery of Ontario. It now features pretty landscaping, a Georgian manor and a Henry Moore sculpture that your kids are allowed to climb on. And yes, there are also plenty of colour-changing trees. Need a reward for the kids after they sit through a bunch of photos? Tell them that after I get the perfect shot, they're free to play on the park's playground for a while at the end of the session. Its best to take the TTC to get here as parking is limited in downtown Toronto. If you do drive try the Green P parking lot on McCaul Street near Elm.
HUMBER BAY ARCH BRIDGE
Website for Humber Bay Arch Bridge
Map for Humber Bay Arch Bridge
Here is a neat alternative to the inland park setting. This cool bridge with its lakeside location can be fun for a family photo shoot. The bridge is a quick walk from a couple of other locations where we can take photographs that combine the fall colours with the Humber River and/or Lake Ontario. If we head west, we can enter the Humber River Recreational Trail. If we head east, we get to the Sunnyside Boardwalk and a small, tree-surrounded beach. Note that on nice days, this part of town can get pretty busy, so a weekday photoshoot is a better bet.
CROTHERS WOODS
I find it interesting that one of the cool locations we have for fall foliage spotting is accessible off the back of a Loblaw's grocery store. Curious?
Coming from Eglinton and Bayview which is near me, you'll find the Thomas Hauser Memorial Trailhead, one of the trail's entrances. It's tucked away in the back of a very spacious Loblaws parking lot; it's the Loblaws that we locals call the "hidden Loblaws" located at 11 Redway Rd, East York, ON M4H 1P6 Sound familiar?
In an area that's inundated with traffic and construction, Crothers Woods is a neat walking getaway for urban dwellers looking for a breath of fresh air and a leg workout. I usually meet clients in the Loblaws parking lot and then wander from there. Wear comfortable shoes and be ready for a mild hike.
There are of course, many other gems in Toronto that are worth exploring and using for your annual fall colours family portrait with Storey Wilkins Photography. Here is a condensed list of suggestions:
Riverdale Zoo
East Don Parkland
Glen Stewart Ravine
Rosedale Ravine and the Necropolis Cemetery
The trails along the top of the Scarborough Bluffs
Lambton Park
Humber Marshes Park
Etienne Brule Park
Toronto Islands
Leslie Street Spit and the Lighthouse at the end
Trinity Bellwoods Park
Humber River Trail
Humber Arboretum
East Don Parkland (Leslie and Finch)
Todmorden Mills Walking Trail
Contact me for more information about my family portrait sessions and my Fall Family Photo shoots. Trust these to the professional!