FAMILY REUNION PHOTOGRAPHY IN TORONTO
Reunite with Your Loved Ones
Family reunions are special for so many reasons:
grandparents are reunited with their grandchildren
aunts and uncles and cousins get together for family dinners
kids play while adults catch up, reminisce and tell stories.
FAMILY REUNION PHOTOGRAPHY
90 Minute Session within the GTA
20 High Resolution Photos
$980 + tax
Deep Expertise Photographing Big Groups
As a wedding and family portrait photographer with over 20 years of experience serving Toronto neighbourhoods near me, I have photographed many family reunions. They are special events in your family's history and worth documenting with great photographs.
Have your Family Reunion photographed by a pro
I will take a big group portrait, individual family unit photographs, and other combinations such as:
the grandparents with the grandchildren,
all cousins,
the original family,
just the grandparents, and
anyone celebrating special milestones.
I will finish by documenting your family enjoying your time together at the reunion.
Location
The options are practically limitless. Perhaps this could be at:
one of your homes around the city,
a local banquet hall,
private room in a restaurant, or
One of the City of Toronto parks where you gather for a bar-b-que,
your cottage (modest travel fees apply)
Just imagine..you play some games. It's a and a beautiful afternoon. You are together under the trees, relaxing, eating, telling stories...
If you give me 90 minutes of your family's time I will create an incredible collection of photographs.
After the REUNION
Afterwards I will sort through the photographs and do a tight cull to trim down the collection until just the best remain. Any photograph that I include will be worthy of sharing and displaying.
Easy to Order
After I finish the post-production I will create an online password protected photo gallery that you can share with everybody in your extended family.
You will have pre-purchased a small selection of digital files, which you can select and download from your online gallery. You are welcome to purchase additional images as well for $50 per image. Prints, wall art and albums can also be ordered easily on-line.
Separate Orders
Each family will have access to the gallery to order whatever they like, whenever they like, directly from me. This means you do not have to manage the sales orders for each sub-family. This can be a time consuming process and can result in frustrating communication errors.
I will fill each order from each of your families. I offer either an in-person sales meeting, an online video chat, or a telephone call to help you select your favorite photographs and order products.
Popular Products
In the online gallery I offer many products to help you display your photographs. I have photographs hand printed on archival paper that range in size from 4 by 6 inch prints up to 40 by 60 inch wall art.
I also offer special treatments for any of the photographs that you order such as:
canvas gallery wraps,
acrylic prints,
metal prints,
matted and framed prints,
stand out wall displays, and
wall collages
Consider an Album
This is a great solution if you find you have at least 20 photographs that you love but you don't have space for 20 photographs on your wall.
A family album usually has one photograph per side. Each page is combined into a beautifully bound book with a fresh cover material (and even a matching storage box). You will have the memory of your wonderful family reunion preserved in a timeless book that will still look wonderful a few generations from now.
I can help you select the images for your album. Typically, it will be 12 by 12 inches in size but custom sizes are available upon request.
For a detailed list of my pricing for both my photography and my photographic products please visit the family portrait pricing page of my website.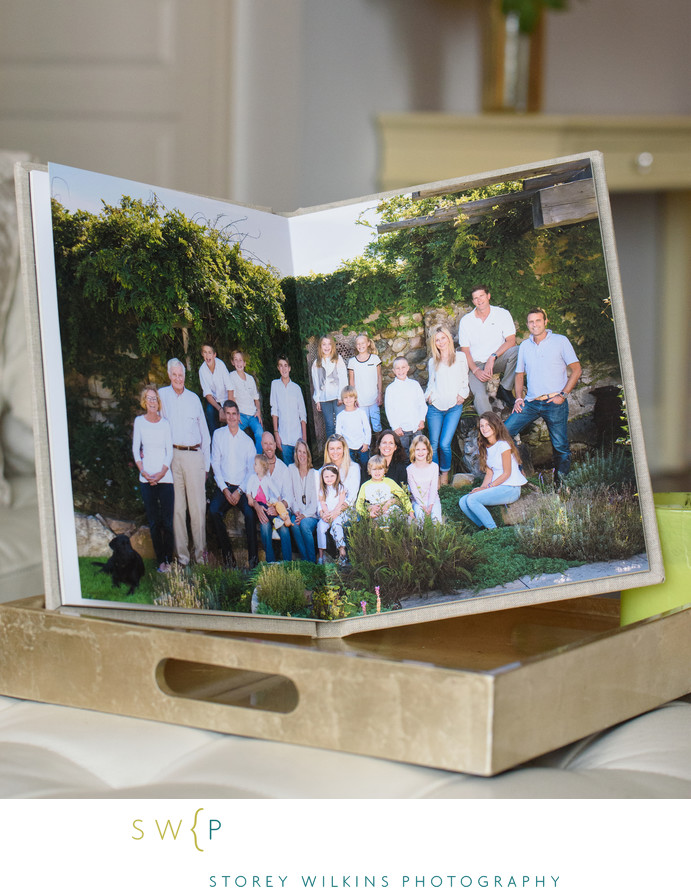 What to Wear
As you can imagine, the bigger the family group the more important it is to have some level of coordination in what you all wear. If there are too many colours, patterns and styles you won't connect with the faces as much and you won't like the photograph as much.
Thoughts on All White
On the other hand if everybody is in the exact same colour for example white, it can look nice and clean, but also less natural. If you like the look of all white then great go for it. It just requires a tougher level of coordination across the family. A good compromise is to wear white tops and jeans. That way everyone can usually find flattering styles that meet the colour criteria.
Three Colours
One of my favourite looks is to have every family member in one of three colours. I find that if there are more than three obvious colors represented across the group it adds a layer of chaos to the image. Here are some colour ideas to consider:
Blue, cream and pink: Stick to three colors maximum across everybody's outfits. For example, allow any shade of blue combined with any shade of white or cream combined with any shade of pink.
Blues cream and grey: These go really well together. An example of this would be jeans, t-shirts, button down shirts, summer dresses, as well as blazers and jackets. Pants would be jeans or dress pants. It also provides flexibility in terms of the fit as almost everybody has something in their closet that is flattering on them in those three shades.
Creams and pastels: There are many other colour combinations that work really well together and perhaps it could also be a factor of the environment where the photograph is taking place. For example if the photograph is being done at one of the Toronto parks where there is lots of greenery around then creams, blacks and soft pastels in any colour would look really nice together.
Navy and jewel tones: If you are gathering in a condominium party room, for example, those rooms tend to be quite neutral so any colour palette usually works well in that case. I often recommend colors like creams, navies, and other jewel tones.
Clothes to Avoid
The most important tip is that your tops should be as plain as possible.
Avoid wearing anything with bold patterns such as stripes.
Also avoid shirts that have big logos on the front. Logos or distracting artwork on the front of a shirt tend to distract the eye when you look at the photographs. If you see the design before you see the person's face it means that the shirt was too busy.
Timing
Plan for 90 minutes of photography. It will take about 30 minutes to do the big group portrait. It will take another 30 minutes to photograph each individual family. Add 15 minutes to photograph any other combinations that you may wish.
I recommend adding another 15 minute booster onto the session so that I can photograph some candid moments with your party in full swing. There will surely be some beautiful interactions with the family members that you will want to have captured naturally.
Pricing
Pricing for a family reunion is $980 plus HST. This is the cost of my time and talent to photograph the event. It includes 20 digital files that you may download after the session. Read more about my Toronto family portrait services and products.
Frequently Asked Questions
YES, you should hire a professional, not an amateur, not a friend, and avoid self-timers on your own camera all together. Sadly, we hear all too often the regret of 'we should have…'

I know iPhones can be great for day-to-day documenting – but they also ensure that one of you is always missing from the family document – to the detriment of your family history….and sadly, we know only too well – we can't 'go back' – except through photography.

Professional photographers specialize in different fields. You can imagine that an 'accident scene' or 'real estate' photographer may be excellent at their field – but maybe not so with families. So hire a professional FAMILY photographer. There are about 30 in Toronto that are worth considering. Being one of them, here are some answers to my client's frequently asked questions.


There is such a wide range of styles and trends and looks in professional family photography today. I tend to focus on natural thoughtful and emotional images for my families.

NATURAL: This often involves using my clients' homes, local parks, or family cottages for the session. This natural background is both familiar and symbolic, and adds easy access to 'wardrobe & props'.

THOUGHTFUL: It gives me an opportunity to provide thoughtful images where families are snuggled around their favorite couch, or playing and interacting with their familiar environment, and doing things that they would normally do.

EMOTIONAL: Because everybody is at home and comfortable it allows me to create a more intimate environment where I can produce more emotional photographs for you.

If this 'sounds like you' then I am the best fit professional photographer for you.
WHAT I'M NOT: If somebody is looking for a dark moody dramatic editorial style images of their family, I might recommend them to another photographer. Conversely if you want the unnaturally bright and airy look in an all-white studio or fantasy settings then I can recommend a few photographers in the city that covet that look.


Absolutely. Natural sunlight whether directly outdoor or coming through a window is always great to use, providing that it is the right quality and direction for flattering images.

Whenever I arrive at a home I look around for the most suitable, and brightest part of the house – with the nicest natural light, and then come up with the initial plan for where I'm going to take the photographs.

Then I introduce strobe lighting to help supplement the light that's already there – if necessary.

The strobe lighting that I use are often small lights that I bounce off walls or diffuse through modifiers so that the light creates a nice soft glow on the faces. I have years of experience shaping light and making it look naturalistic, for both little ones and their parents of all ages.

One of the most important distinguishing factors in looking for professional photography is how well, and how quickly a photographer can respond to difficult environmental lighting scenarios. Sadly, there are too many 'budget photographers' our there who are inexperienced, and use inappropriate lighting that does not flatter the subjects, or is just plain annoying.

This is one of the main reasons why it's important to choose a photographer like me with many years of experience in creating natural-looking imagery.


While I don't follow a tight formula for every family, there are certain universally loved poses that I will use depending on the circumstance. I am always ready to record natural moments, yet sometimes we need solid start points for the fun to flow from.

THE "INFORMAL FORMAL" GROUP PHOTO
An example of this might be the family arranged in arm chairs on their front lawn with their beautiful home in the background. The grand-parents are often in the middle surrounded on either side by the kids and the dogs. Everybody is connected somehow with a subtle hug or a little cuddle and yet everybody can be seen full length with great smiles.
WALKING TOGETHER
This is where I get everyone in the family to come outside of the house and do a quick walk up and down the street. Or if we are working on location in a park, I will have the family walk up and down a path or an uncrowded part of the park with minimal background distractions.

Body tension tends to disappear when we walk so it's a great way to show the family looking at each other laughing enjoying a nice stroll outside. Often the 'asked for' scenario is what leads to the 'natural moment' as the situation progresses.
SUB-GROUPS
The fourth pose that I ask for involves what I call SUB-GROUPS within the family. The most popular subgroup is with all the kids together without the parents. Some of my favorite poses when I'm photographing just the kids are where they sit on the grass together or on the couch and they are all looking at each other having a little laugh.
Not surprisingly if your child is well rested and well fed before the photo shoot the chances are higher that they will have lots of smiles and giggles for me to capture. However, every child has their limit and attention span and I never forget that I am on borrowed time.

There is a high 'fun factor' level and I take the most photographs while the kids are still fresh and happy. Learn all about my techniques for getting kids to smile in my Guide to Annual Family Portraits.


Yes indeed. Grandparents will be at the center of these reunion photographs. They are the loving, physical reminder of where you and your family descended from. It's a magical time for many people, but especially those who are grandparents, and the grandparent/grandchild relationship can be very special indeed.

Some of my favorite photographs involve the grandparents alone with the grandchildren. I'm looking for a relaxed, 'formal' group arrangement and in a relaxed playful situation - the photographs always have an enduring lovely quality to them.
I highly encourage you to involve your parents so that they too can be in the family history books. Whenever the grandparents arrive for a session, after the group work is done, I will often ask them for individual portraits and for a nice picture of just the two of them.
Great question. Many photographers in the city "shoot and burn" - meaning they take the photographs and put them directly into a digital format for you without much post-production.

I take great pride in finishing any photograph that you order to be printed for your wall, framed as a stand-up, or in a family album. 'Finishing' is the high-quality layer of finesse that I add in post-production that I could not capture at the time in-camera.
Common techniques that I used to finish my work include density and color correction, skin softening, removal of distracting background objects, cropping and vignettes. I don't do these to every photograph because that would be time prohibitive for me - and cost prohibitive for you.

Instead once we have finished our ordering appointment, I will get to work finishing your selections and you will receive those either in print or digital form depending on what you are purchasing.

Unless it is a complex retouching request (like the removal of braces) I will do the retouching in-house. For complex requests I will outsource to a retouch expert and pass that cost along to you after quotation.


Absolutely! This is really helpful so that I can move quickly.
There are a lot of photographers in the city who won't do big groups. They avoid them because of the technical complexities and the people skills involved in creating nice group arrangements. It requires 'next level' professional skill to do well.

With my years of experience as a wedding photographer I LOVE photographing big families. I work quickly together with my assistant so that we can get through a lot of different photographs in the same amount of time as we would take photographing a smaller family.

I take the time to make sure I know the family 'units' that make up the group. This means that we can organize everyone quickly and efficiently. This means that we keep everybody fresh, moving, and excited so that the photographs will reflect that positive energy.
Your extended family and multi-generational family portraits are so important because they tell the story of an entire generation, especially because of the advances of time – it's poignancy, it celebrations, and it's wonderful evocation of a time.


These LEGACY PORTRAITS take on a new level of emotional significance for the family, now and yet to come, so it's definitely worth doing while I am there for your annual portrait.
Some of my favorite personal photographs in my childhood albums are the ones where my brothers and I are with my grandparents. We never lived in the same country as my grandparents so time with them during holidays and summer vacations was always very special and I'm so glad that I have those photographs to remember them by.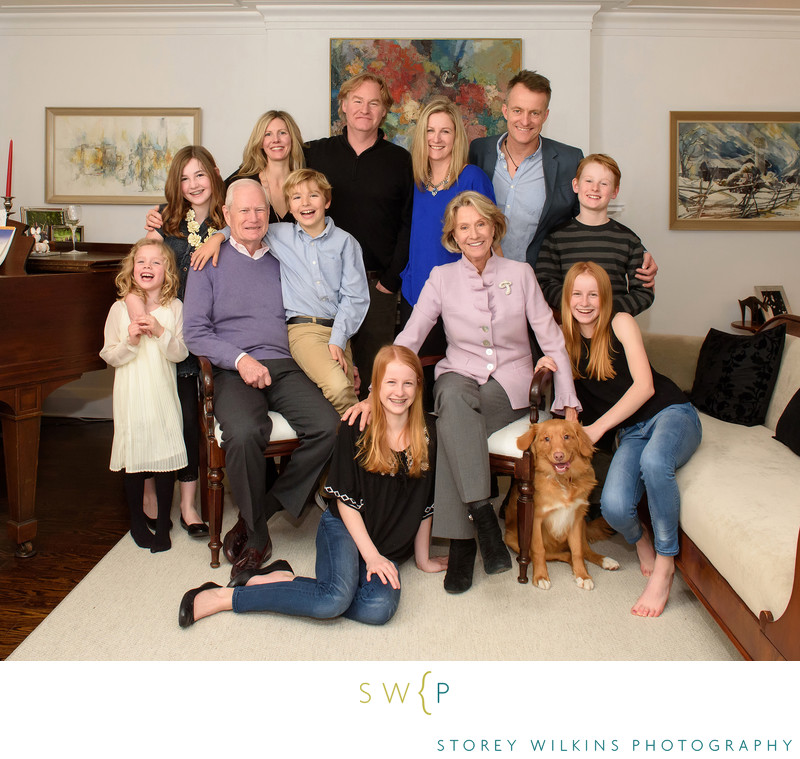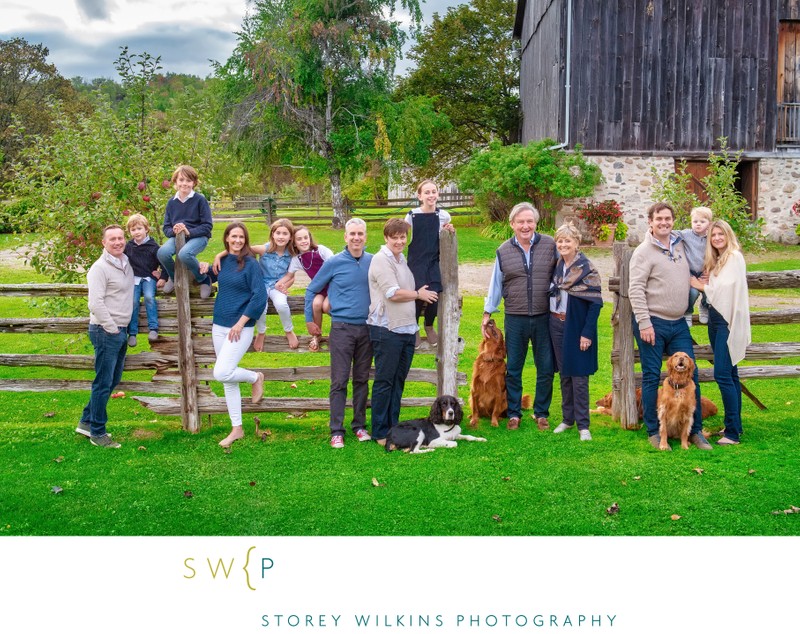 Final thoughts
As a photographer I am a "keeper of the spirit" of people. I use over 20 years of experience PHOTOGRAPHING LOVE FOR A LIVING to bring you the very best of Toronto family photography.
I look forward to photographing your entire extended family. I know the end of 2020 and the beginning of 2021 will be an extremely important time in our Toronto family histories as we reunite with loved ones and celebrate our time together, in each other's homes and in the great outdoors.
Ready to book? Contact me to request a day and time.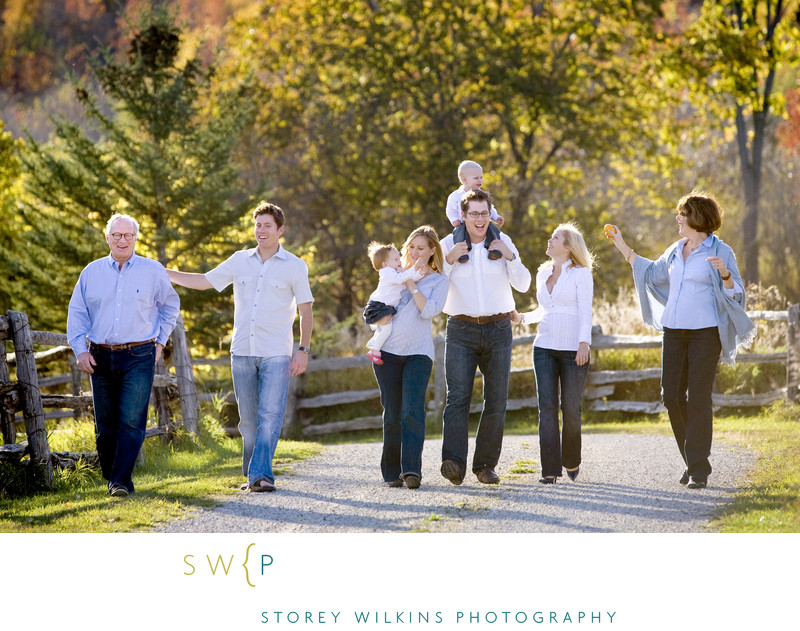 FAMILY REUNION PHOTOGRAPHY
90 Minute Session within the GTA
Up to 20 High Resolution Photos
$980 + tax