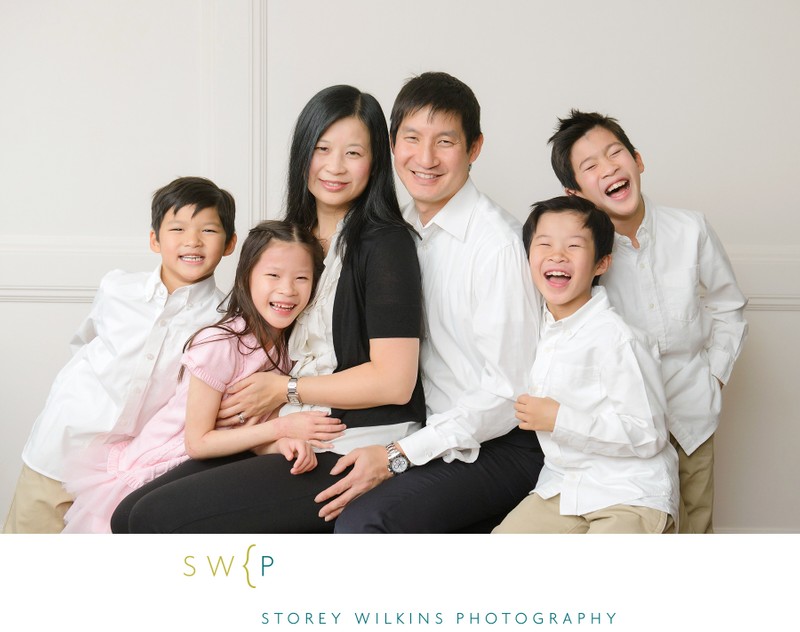 FAMILY PHOTOGRAPHY FAQS
How to Prepare for your Family Portrait
Follow this handy checklist to ensure a stress-free lead up to your family portrait:
30 days before: Decide on what to wear. Pick three colours. Make sure everyone has a well fitted outfit in those colours. Order new clothes if needed.
20 days before: Make a list of walls where you would like your new photos to go and order frames that work well in those spaces. Send Storey pictures of the frames when they arrive.
10 days before: Take the family for haircuts.
2 days before: Tidy up your front steps and backyard. No need to water the grass. It's better if its dry.
1 day before: Check in with Storey to confirm location, timing and check for weather anomalies.
The night before: Relax with a nice cup of tea. Cuddle with the family. Know that your family portrait will be a fun and easy-going experience.
Colour
I strongly recommend that you start by choosing no more that three colours, and ensure that each person in the family stays within those colours (any shade). My personal favourites are when families wear shades of blues, creams and greys. Anything goes however, as long as there is some consistency.

Pattern
I also recommend that you avoid wearing tops with logos or bold patterns (such as big stripes). This will detract from faces and eyes, which are the main focus of the photographs. Jeans, khakis or chinos are great options for bottoms. Plain button downs, plain sweaters, and plain t-shirts are great choices for tops. Dresses and skirts are lovely options for girls and women, especially if they are plain and not too short. Shoes should not be too colourful as they will draw attention away from the faces.

Matching
If you prefer that all of your outfits match exactly (such as all white or all black tops),make sure each person's top is a comfortable fit and flatters the figure.

Fit
The most important thing to remember when choosing your outfit for a family portrait is that you should wear something that fits you well, is comfortable and makes you feel great when you wear it. You are more likely to relax and show off your best smile when you feel great.


There are times when we feel less than perfect, especially around the time we are creating, delivering and raising our beautiful babies. It would be unfortunate to exclude you just because you are not feeling up to it. Just let me know your concerns and I will work with you to create flattering poses that you will be happy with it. These photographs get more precious and treasured with time, so it's best not to miss out on an opportunity to be in the photographs with your family, especially when a skilled photographer like me can make it all worthwhile.
Not a problem! We can always reschedule. Weather is the one thing we can't control or predict. I will assume the session is "ON" unless you call me (or I call you) beforehand to reschedule.
Sure! Please mention any ideas you have to me before the session so that you can get the results you are hoping for. For example, there is usually one member of the family who takes most of the photographs, therefore rarely appearing in any herself. With me there, it is a great opportunity to get into as many of the photographs as possible. Time to even things out!
Absolutely! Unlike many studio photographers in Toronto that require you to use their space, I believe the location should have personal significance to you and your family. As a result, I usually work either at your home (or cottage) or outside in your yard or local park, all while combining modern and fresh ideas to capture each of you in your best light. My skill in using a combination of natural light and flash means you will have great photographs no matter where you are and what time of day it is.
We will need 90 minutes for a TIME SAVOURED lifestyle family portrait.
If for some reason the kids are melting down despite your best efforts to stay calm and provide snacks and breaks, don't sweat it! We can take a break. We can distract. We can entertain. If all else fails, we can always reschedule at no extra cost to you.
I strongly recommend that you do while the kids are still living at home. I recommend the
TIME SAVOURED
family portrait for your annual session. Collect a lifetime of beautiful pictures.
The months of October and November are the only months to book your family portrait session if you want fall colours in the background. If you want to see beautiful yellows, greens, reds and oranges on the trees in the background of your photographs then be sure to schedule your session with Storey during this time. There are some great locations for fall colours across the GTA. I have prepared a list of the best Toronto locations for family photos in the fall.
Read more here
.
YES, you should hire a professional, not an amateur, not a friend, and avoid self-timers on your own camera all together. Sadly, we hear all too often the regret of 'we should have…'
I know iPhones can be great for day-to-day documenting – but they also ensure that one of you is always missing from the family document – to the detriment of your family history….and sadly, we know only too well – we can't 'go back' – except through photography.
Professional photographers specialize in different fields. You can imagine that a commercial or real estate photographer may be excellent at their field – but maybe not so with families. So hire a professional FAMILY photographer. There are at least a dozen fantastic ones in Toronto that are worth considering.
I am proud to be one of them
.
There is such a wide range of styles and trends and looks in professional family photography today. I tend to focus on natural thoughtful and emotional images for my families.

NATURAL: This often involves using my clients' homes, local parks, or family cottages for the session. This natural background is both familiar and symbolic, and adds easy access to 'wardrobe & props'.

THOUGHTFUL: It gives me an opportunity to provide thoughtful images where families are snuggled around their favorite couch, or playing and interacting with their familiar environment, and doing things that they would normally do.

EMOTIONAL: Because everybody is at home and comfortable it allows me to create a more intimate environment where I can produce more emotional photographs for you.

If this 'sounds like you' then I am the best fit professional photographer for you.
WHAT I'M NOT: If somebody is looking for a dark moody dramatic editorial style images of their family, I might recommend them to another photographer. Conversely if you want the unnaturally bright and airy look in an all-white studio or fantasy settings then I can recommend a few photographers in the city that covet that look.


Without a doubt my personal favorites are those that I took of my own daughters as they were growing up. In fact, I believe that the reason I turned pro was because of them.

Photographing babies and kids is a great joy for me, but photographing my own kids added an extra level of joy to my life. I can think of so many photographs where the girls are outdoors playing either in our backyard or in our local park or of course at our family cottage where they look so free and happy doing just what kids do.

Those photographs mean so much to me because of the genuine spirit of their personalities revealed to me in camera. I design each of my client photo shoots around capturing some of that childhood magic.
I strive for a balance of three types of photographs in my TIME SAVOURED sessions. During a 90-minute lifestyle family portrait session I look for a combination of group portraits, play time and solo time.

GROUP PORTRAITS: An example of a group portrait could be the whole family gathered at the front door, or in front of the fireplace, or snuggled in together on the couch.

PLAY TIME: One example of playtime would be having a tickle fight on mom and dad's bed. Together with a bit of quiet time, this is often when the best candid portraits are made.

SOLO TIME: Solo time could mean each person in the family having their own portrait taken.

It is a combination of these photographs that makes a session so valuable. And I strive for more than just one great group photograph, looking for both 'relaxed' and 'energetic' views of your family.

From each session my clients usually order several photographs for their wall, and often the digital files to share with all of their loved ones. They regularly order a coffee table book, or professional album, with a collection of their favorite photographs from the session. Greeting cards are also a popular product, especially leading up to Christmas.
Absolutely. Natural sunlight whether directly outdoor or coming through a window is always great to use, providing that it is the right quality and direction for flattering images.

Whenever I arrive at a home or park I look around for the most suitable, and brightest part of the space – with the nicest natural light, and then come up with the initial plan for where I'm going to take the photographs.

Then I introduce strobe lighting to help supplement the light that's already there – if necessary.

The strobe lighting that I use are often small lights that I bounce off walls or diffuse through modifiers so that the light creates a nice soft glow on the faces. I have years of experience shaping light and making it look natural, for both little ones and their parents of all ages.

One of the most important distinguishing factors in looking for professional photography is how well, and how quickly a photographer can respond to difficult environmental lighting scenarios. Sadly, there are too many 'budget photographers' our there who are inexperienced, and use inappropriate lighting that does not flatter the subjects, or the over lighting is just plain annoying.

This is one of the main reasons why it's important to choose a photographer like me with many years of experience in creating natural-looking imagery.
While I don't follow a tight formula for every family, there are certain universally loved poses that I will use depending on the circumstance. I am always ready to record natural moments, yet sometimes we need solid start points for the fun to flow from.

The first of these I call the "Informal formal"
An example of this might be the family standing on their front lawn with their beautiful home in the background. The parents are often in the middle surrounded on either side by the kids and the dogs. Everybody is connected somehow with a subtle hug or a little cuddle and yet everybody can be seen full length with great smiles.

The second pose usually involves walking
This is where I get everyone in the family to come outside of the house and do a quick walk up and down the street. Or if we are working on location in a park, I will have the family walk up and down a path or an uncrowded part of the park with minimal background distractions.

Body tension tends to disappear when we walk so it's a great way to show the family looking at each other laughing enjoying a nice stroll outside. Often the 'asked for' scenario is what leads to the 'natural moment' as the situation progresses.

The Individual Portrait
The third pose that I often ask for is an INDIVIDUAL PORTRAIT of each member of the family. This could mean asking each child to curl up in the corner of the couch where the sun is softly dappling through the window.

Sub-Groups
The fourth pose that I ask for involves what I call SUB-GROUPS within the family. The most popular subgroup is with all the kids together without the parents. Some of my favorite poses when I'm photographing just the kids are where they sit on the grass together or on the couch and they are all looking at each other having a little laugh.

Cuddles
Then the fifth pose involves a whole lot of CUDDLES. What I mean by that is having mom cuddle with each of her children and then dad does the same. I find that cheek to cheek with arms round wrapped around each other has a nice loving feel to it.


Not surprisingly if your child is well rested and well fed before the photo shoot the chances are higher that they will have lots of smiles and giggles for me to capture. However, every child has their limit and attention span and I never forget that I am on borrowed time.

There is a high 'fun factor' level and I take the most photographs while the kids are still fresh and happy. Here are some examples of how I keep the smiles going once the kids begin to get bored.

DECOYS are where mom or dad entertain the child from beside the camera which often gets the child to elicit his or her biggest smiles.
WALKING is another great way to relax a child and get another 10 minutes of happiness out of them. Examples of this include walking games where we have a start point and they must walk as quickly as they can with the biggest smile back towards the camera. It becomes 'play'. Up on dad's shoulders while dad walks is another fantastic way to get kids smiling.

CUDDLES AND CUDDLES AND MORE CUDDLES are a great way to get a few more minutes of happiness out of a child. I ask them to cuddle with their parents or lay on dad's chest as he relaxes on the couch, or hug mom as tightly as they can, or even curl up on their bed for story time.
FOLLOW ME: Another great activity is when I just tell the children that the game is that I am going to follow them. It may start with the kids following my antics – but it really gets fun when the kids get me to follow them and I take pictures of it.

FAVORITE THINGS to be photographed: It's wonderful to see what a child will bring down from their rooms for me to take pictures of. One little guy brought me his guitar so in my photograph he is strumming along and singing some words. One girl brought me her baby doll, so she is kissing her baby doll in the picture. One adventurous fellow brought me his handmade bow and arrow that he held across his face like a super cute warrior.
90 minutes can be a long time to ask a child to smile and cooperate. I get that as I am a mom too. So, if needed during the session that we can take a break for rest and recharge (and a snack).

Speaking of snacks, apples and chocolate chip cookies tend to work well. They get eaten quickly and don't leave a trail. Please avoid things like lollipops or anything with food coloring as those will stain the mouth and lips. As you can imagine that is not good for photographs.

I often get asked if the session must be stopped if a child starts to meltdown or cry or misbehave during the session. But I always say, "Let's go with it." Often some of the cutest photographs are when a child is crying or looking a bit "past it" or having a time out.

Children have so many moods and expressions over the course of a day and as parents we want to remember every single one of them including the good and the not so good.

So, what's the harm in having the occasional meltdown photograph in your annual family album? None. In fact, my girls (who are now young adults) still tend to show off their early-years crying and tantrum photographs to their friends.

It always makes them laugh and share a couple of funny stories. I believe it helps them connect to their childhood in ways they might not remember otherwise. We will make the very best of a short-lived situation.
Absolutely 100% Yes. However, this will require more time so I suggest you upgrade to a "Time Savoured" PHOTOGRAPHY session.

Grandparents are the loving, physical reminder of where you and your family descended from. It's a magical time for many people, but especially those who are grandparents, and the grandparent/grandchild relationship can be very special indeed.

I love it when my clients invite the grandparents to come for the last part of a family portrait session. Some of my favorite photographs involve the grandparents alone with the grandchildren. I'm looking for a relaxed 'formal' group arrangement and in a relaxed playful situation - the photographs always have an enduring lovely quality to them.
I highly encourage you to involve your parents so that they too can be in the family history books. Whenever the grandparents arrive for a session, after the group work is done, I will often ask them for individual portraits and for a nice picture of just the two of them.

These LEGACY PORTRAITS take on a new level of emotional significance for the family, now and yet to come, so it's definitely worth doing while I am there for your annual portrait.

Some of my favorite personal photographs in my childhood albums are the ones where my brothers and I are with my grandparents. We never lived in the same country as my grandparents so time with them during holidays and summer vacations was always very special and I'm so glad that I have those photographs to remember them by.


Great question. Many photographers in the city "shoot and burn" - meaning they take the photographs and put them directly into a digital format for you without much post-production.

I take great pride in finishing any photograph that you order to be printed for your wall, framed as a stand-up, or in a family album. 'Finishing' is the high-quality layer of finesse that I add in post-production that I could not capture at the time in-camera.

Common techniques that I used to finish my work include density and color correction, skin softening, removal of distracting background objects, cropping and vignettes. I don't do these to every photograph because that would be time prohibitive for me - and cost prohibitive for you.

Instead once you have placed your order, I will get to work finishing your selections and you will receive those either in print or digital form depending on what you are purchasing.

Unless it is a complex retouching request (like the removal of braces) I will do the retouching in-house. I charge an hourly fee for retouching. For complex requests I will outsource to a retouch expert and pass that cost along to you after quotation.


I would say that the most common purchase is to order your favorite group portrait from the session as a 12x18 inch fine art print matted and framed and ready to hang in your home. Of course, I often create larger prints for clients and these prints can go as big as 30 by 40 inches.

On the other hand I often create small treasures for clients who have very little wall space so I print 5x7 inch photographs that we can then frame in beautiful white or black wood frames to display around their home on surfaces like a mantle or a side table.
One of my favorite products to create for my clients is an annual family portrait album. This is usually a 12x12 inch lay flat album that holds up to 80 photographs from the session. Each page is archival matte paper so that the photographs take on a fine art quality.

The covers of the albums are often faux silk or linen and can be embossed with whatever words you want on the cover. I take great care to design the layout of every album with a timeless style. For me this means a clean layout with no colored backgrounds, drop shadows, tilted images, key lines, overlapped images or funky experiments that can really date a book.

A clean layout where every photograph has breathing space and every spread has a symmetrical design means that your album will look as fresh in 50 years or 100 years as it does today.
Absolutely! It's funny you should ask that because there are a lot of photographers in the city who won't do big groups. They avoid them because of the technical complexities and the people skills involved in creating nice group arrangements. It requires 'next level' professional skill to do well.

With my years of experience as a wedding photographer I LOVE photographing extended families. I work quickly together with my assistant so that we can get through a lot of different photographs in the same amount of time as we would take photographing a smaller family.

I take the time to make sure I know the family 'units' that make up the group. This means that we can organize everyone quickly and efficiently. This means that we keep everybody fresh, moving, and excited so that the photographs will reflect that positive energy.
Your extended family and multi-generational family portraits are so important because they tell the story of an entire generation, especially because of the advances of time – it's poignancy, it celebrations, and it's wonderful evocation of a time.

In order to make it easy for my clients after the session I will post a password protected link to an online gallery with the photographs from this session. That way each family branch can look online at their own convenience and place orders directly through me so that this burden does not fall to one member of your family.


Family photographs captures memories and moments that can be cherished for a lifetime. They freeze a moment in time, which can be especially important as family members grow and change. Family photos can also serve as a source of comfort, bringing back happy memories and reminding us of the love and support within our family. They also provide a way to document family history and pass down traditions and values to future generations.
A professional family portrait is a way to create lasting memories, document growth, and celebrate the love and bond within your family. Consider having your family photographed this year to preserve these precious moments.
Documenting growth and change: Family members change and grow quickly, especially with children. Capturing a family portrait this year can help preserve the memories of how your family look and interact at this point in time.
Creating lasting memories: Family photos become treasured possessions that can be passed down from generation to generation. They are a way to keep memories of family members, both living and deceased, alive.
Celebrating milestones: Whether it's a birthday, anniversary, or other special event, having your family photographed is a great way to celebrate and commemorate these milestones.
Improving family bonds: Having a family photo session can be a fun and enjoyable experience that brings family members closer together.
This will vary depending on your personal preference and the type of photos you are looking for. The best time to have your child photographed professionally is whenever you feel it is right for your family and when your child is comfortable in front of the camera.
Here are some general guidelines:
Newborns (0-3 months): This is the best time to capture the sweet and sleepy moments of a new baby, as well as their tiny features that change quickly.
Sitters (6-9 months): At this age, babies are able to sit up on their own, which opens up new possibilities for portraits and can be an adorable milestone to capture.
One year old: Capturing a child's first birthday can be a special and memorable occasion, especially with a cake smash photo shoot.
Two to Three Years Old: Children at this age are more mobile and expressive, making for fun and playful photos.
Four to Five Years Old: Children at this age have developed their own personalities and can be captured in more playful and creative poses.
School-age Children: Professional photos can be taken at any age, but capturing children before they head off to school can be a special way to document this time in their lives.
The most popular style of photography for families is lifestyle photography, which captures natural, candid moments and interactions in a comfortable and relaxed setting. This style is designed to tell a story of your family's unique bond and captures the essence of who you are at this time. Another popular option is documentary photography, which aims to document real-life events and experiences as they happen, without much direction or interference from me as your photographer. Both styles are great ways to preserve memories and tell the story of your family over time.
The best way to display your photos will depend on your personal style, preferences, and the size and type of images you prefer. Consider the look and feel you want to achieve, the size of the space you have for display, and how you want to interact with the photos.
There are several options to display your favourite photographs:
Photo Albums: A traditional photo album is a classic way to showcase your photos and preserve memories for years to come.
Standout Prints: Standout prints are a great glass-free option for large, eye-catching wall displays that add a touch of elegance to any room. They stand out from the wall about 2 inches.
Prints and Framing: You can choose to print your photos and display them in frames on a wall or bookshelf for a personalized touch.
Digital Photo Frames: A digital photo frame is a convenient and modern way to display photos, as you can easily switch between images and create a slideshow.
Photo Books: Photo books are a great option for those who want to create a more curated, storytelling experience. They allow you to arrange your photos in a specific order and add captions or other text to enhance the story.
The amount of experience a professional photographer should have to be worth the money you spend depends on several factors, including the type of photography, your personal preferences, and the budget you have available.

In general, at least five years of experience and a strong portfolio in the type of photography you're interested in is a must, and good sign that they're worth the investment. A professional with a proven track record of delivering high-quality results and positive client experiences is more likely to be worth the money you spend on family photography. Professional photography is an investment in your family's legacy and can provide you with images that you'll cherish for a lifetime.

Many of my clients find me after they have researched and compared multiple photographers, reviewed their portfolios, and asked for references before making a final decision. They feel comfortable communicating their needs and expectations to me and have confidence in my ability to deliver results that meet their standards.
The length of time we will need for your family portrait session will vary depending on several factors, including the number of people in your family, the location of the shoot, and the style of photography.

Typically, my family portrait sessions can last anywhere from 30 minutes to 2 hours, but average about 90 minutes. A shorter session may be more suitable if you have young children or individuals who are not comfortable in front of the camera, while a longer session may allow for more time to capture different poses and groupings.

Please let me know about any time constraints and any concerns you have beforehand so I can plan the session accordingly. I do not usually offer mini sessions, which are shorter in length and typically focus on just the kids or just the parents. I encourage you to get the full value from a session by including everyone.

In order to make the session as smooth and enjoyable as possible, it's also a good idea to prepare your family for the experience. Explain what to expect, provide snacks and drinks, and try to schedule the session at a time when everyone is well-rested and in good spirits.
The best outdoor location for family photos will depend on several factors, including the time of year, your personal style, the desired mood or look of the images, and the type of memories you want to capture. Consider your family's interests and what kind of environment will make everyone feel comfortable and relaxed.
Some of the most popular outdoor locations for family photos that I use include:
Parks and Gardens: A park or garden provides a natural setting with a variety of landscapes, including open fields, wooded areas, and gardens with blooming flowers.
Beaches: A beach can provide a beautiful, relaxed backdrop for family photos with a focus on the water, sand, and sky. Time of day is very important here.
Urban Settings: An urban setting, such as a city street or alley, can provide a modern and dynamic background for family photos with a focus on architecture, graffiti, and street art.
Rural Settings: A rural setting, such as a farm or countryside, can provide a picturesque backdrop for family photos with a focus on nature, rolling hills, and rustic buildings.
Great choice! A home environment provides a sentimental and familiar backdrop. Here are several steps you can take to prepare your home and make it look its best:
Clean and declutter: Clean up your home and declutter any areas that will be visible in the photos. This will help create a clean and organized look and minimize distractions in the background.
Lighting: Ensure that there is enough natural light in the rooms you want to use for the photos. If needed, I will bring lighting equipment to supplement the light.
Furniture arrangement: Consider rearranging furniture in the rooms you want to use for the photos to create a more open and visually appealing space.
Personal touches: Add personal touches to the rooms, such as family photos, artwork, and decorative items that reflect your family's style.
Colors and textures: Consider the colors and textures in the rooms you want to use for the photos. Neutral or muted colors can provide a classic, timeless look, while bolder colors can create a more dynamic and energetic look.
Outdoor spaces: If you want to include outdoor spaces in your photos such as your backyard, tidy up any outdoor areas and add any personal touches or decorations that you feel will enhance the look of the space.
It's also a good idea to communicate any specific preferences or requests you have with me beforehand so I can plan the shoot accordingly. The goal is to create an environment that feels comfortable and reflective of your family's personality and style.
The value of a family portrait session and the price you're willing to pay for it can vary depending on several factors, including the photographer's experience, the quality of their work, and the services we offer.

In general, the price of my family portrait sessions does include the digital images. I have over 20 years of experience, a very strong portfolio and positive reviews from my past clients. This price point is in line with the average cost for a family portrait session with a good professional photographer.

However, the value of a family portrait session is not just about the cost. It's important to consider the value you place on capturing memories and preserving family history. Professional photography is an investment in your family's legacy and can provide you with images that you'll cherish for a lifetime.

Consider the value you place on the experience and the final results. I deliver high-quality images that you will love, and provide an easy and comfortable experience. In short…great value.
Toronto offers a diverse range of locations that can provide stunning backdrops for professional family photographs. Some of the best spots include:
High Park: High Park is a large urban park that offers a variety of landscapes, including rolling hills, gardens, forests, and a pond.
Toronto Island: Toronto Island is a series of islands located just off the shore of downtown Toronto. It offers beautiful views of the city skyline, beaches, parks, and natural landscapes.
Distillery District: The Distillery District is a historic neighborhood in Toronto known for its cobblestone streets, brick buildings, and artistic murals. It provides a unique urban setting for family photos with a focus on architecture and street art. A permit must be purchased in advance.
The Scarborough Bluffs: The Scarborough Bluffs are a series of cliffs along the shore of Lake Ontario that offer panoramic views of the lake and nearby beaches.
These are just a few of the many great locations in Toronto that can provide beautiful backdrops for family photographs. The location for your family will depend on your personal style, the time of year, and the type of memories you want to capture. Consider your family's interests and what kind of environment will make everyone feel comfortable and relaxed.
As your photographer I strive to deliver the results you want and provide a good experience. If my price aligns with your level of quality, experience, and professionalism, then it will be worth the investment.
Consider the following:
Quality of my work: Look at my portfolio and see if my style and skills meet your expectations.
Experience: Consider I have over 20 years of experience, awards, and recognition in the field.
Professionalism: I make communication with you easy. I am punctual. I handle the booking process with ease so that it's one less thing for you to worry about.
Reputation: Read reviews from my past clients. I have 20 years of satisfied clients.
Services included: Understand what is included in my package, such as at least 40 top quality images, editing, and many quality custom printing options.
I use professional Nikon camera gear, but it is not the only factor to consider. Gear can affect the quality of the final images, but it is not the only determining factor. The combination of quality equipment and my ability to use it effectively, is an important combination.
The type of professional lighting that I will use during your family portrait depends on several factors, such as the location, desired mood and atmosphere, and the type of images I will be capturing. Some of the most common lighting setups I use for family photography are:
Natural light: This is often a preferred lighting option for family photography, as it can provide a soft, warm and natural look to the images.
Off-camera flash: This type of lighting setup involves using a flash that is positioned away from the camera and can be used to add light to a scene, balance light levels, and provide more control over the lighting.
Continuous lighting: Continuous lighting sources, such as LED lights or studio strobes, provide a constant light source that can be used to preview the lighting and make adjustments.
Reflectors: Reflectors are simple tools that reflect light back onto the subject, and I use these to fill in shadows, balance light levels, and add depth to an image.
The goal is to capture your family's personalities and connection, so the most important thing is to be yourself and choose outfits that make you feel comfortable and confident.
When choosing outfits for an outdoor family portrait, consider the following tips to ensure everyone looks their best:
Coordinate, but don't match: Choose three coordinating colors that complement each other (like blues, creams and greys), but avoid matching outfits. This can look too staged and detract from the focus on your family's personalities and connection.
If outdoors, consider the location: Take into account the environment where the portrait will be taken. For example, if the location is a park with a lot of greenery, earthy tones such as greens and browns can complement the surroundings.
If indoors, consider the background: Choose outfits that complement the background of the portrait location. If the background is a neutral color, bold or bright outfits can add interest to the image. If the background is busy or has a pattern, consider wearing solid colors to avoid becoming too distracting.
Dress for comfort: Make sure everyone is comfortable in their outfits, especially if the portrait session will involve a lot of movement. Choose breathable, comfortable fabrics and avoid anything too tight or restrictive.
Accessorize wisely: Simple accessories, such as a scarf or a statement necklace, can add interest to an outfit without being distracting. Avoid large, flashy jewelry that can reflect the sun and detract from the faces in the portrait.
Consider the season: If the portrait session is during the summer, lighter, cooler fabrics such as cotton or linen can be a good choice. If it is during the fall or winter, consider layering with jackets, cardigans or scarves.
The decision of whether to order prints from me as your professional photographer or print them yourself comes down to what is most important to you. If you value convenience and high-quality prints, it may be worth ordering prints from me. If cost is a concern, printing the images yourself may be a more affordable option.
Here are a few things to consider:
Quality: Professional photographers typically use high-end printing labs that produce high-quality prints with accurate color and sharp details. Cheaper labs may use lower-quality materials and equipment, which could result in prints that are less vibrant, with less accurate color and lower resolution.
Convenience: Ordering prints directly from your photographer can be more convenient, as we will handle the printing process and deliver the finished prints to you. Printing the images yourself may require you to spend time finding a lab, uploading the images, and then picking up the finished prints.
Cost: Professional photographers often charge more for prints, but you are paying for our expertise and the quality of the materials we use. Printing the images yourself may be less expensive, but you will need to weigh the cost savings against the potential loss of image quality.