Multi-Generation Families
Three Generation Family Portraits
Family gatherings are special for so many reasons:
grandparents are reunited with their grandchildren
aunts and uncles and cousins get together for family dinners
kids play while adults catch up, reminisce and tell stories.
DEEP EXPERTISE PHOTOGRAPHING BIG GROUPS
I have photographed many family reunions. They are special events in your family's history and worth documenting with great photographs.
HAVE YOUR FAMILY REUNION PHOTOGRAPHED BY A PRO
I will take a big group portrait, individual family unit photographs, and other combinations such as:
the grandparents with the grandchildren,
all cousins,
the original family,
just the grandparents, and
anyone celebrating special milestones.
I will finish by documenting your family enjoying your time together at the reunion.
LOCATION
The options are practically limitless. Perhaps this could be at:
one of your homes around the city,
a local banquet hall,
private room in a restaurant, or
One of the City of Toronto parks where you gather for a bar-b-que,
your cottage (modest travel fees apply)
Great Experience
Just imagine..you play some games. It's a and a beautiful afternoon. You are together under the trees, relaxing, eating, telling stories...If you give me 90 minutes of your family's time I will create an incredible collection of photographs.
AFTER THE SESSION
Afterwards I will sort through the photographs and do a tight cull to trim down the collection until just the best remain. Any photograph that I include will be worthy of sharing and displaying.
EASY TO ORGANIZE with Separate Orders
After I finish the post-production I will create an online password protected photo gallery that you can share with everybody in your extended family.
Each family will have access to the gallery to order whatever they like, for one week after the session. This means you do not have to manage the sales orders for each sub-family. This can be a time consuming process and can result in frustrating communication errors.
I will fill each order from each of your families. I offer a virtual sales meeting to help you select your favorite photographs and order products.
POPULAR PRODUCTS
In the online gallery I offer many products to help you display your photographs. I have photographs hand printed on archival paper that range in size from 4 by 6 inch prints up to 30 by 40 inch wall art.
I also offer special treatments for any of the photographs that you order such as:
canvas gallery wraps,
acrylic prints,
metal prints, and
matted and framed prints
CONSIDER AN ALBUM
This is a great solution if you find you have at least 20 photographs that you love but you don't have space for 20 photographs on your wall.
A family album usually has one photograph per side. Each page is combined into a beautifully bound book with a fresh cover material. You will have the memory of your wonderful family reunion preserved in a timeless book that will still look wonderful a few generations from now.
I can help you select the images for your album. Typically, it will be 12 by 12 inches in size but custom sizes are available upon request. For a detailed list of my pricing for both my photography and my photographic products please visit the family portrait pricing page of my website.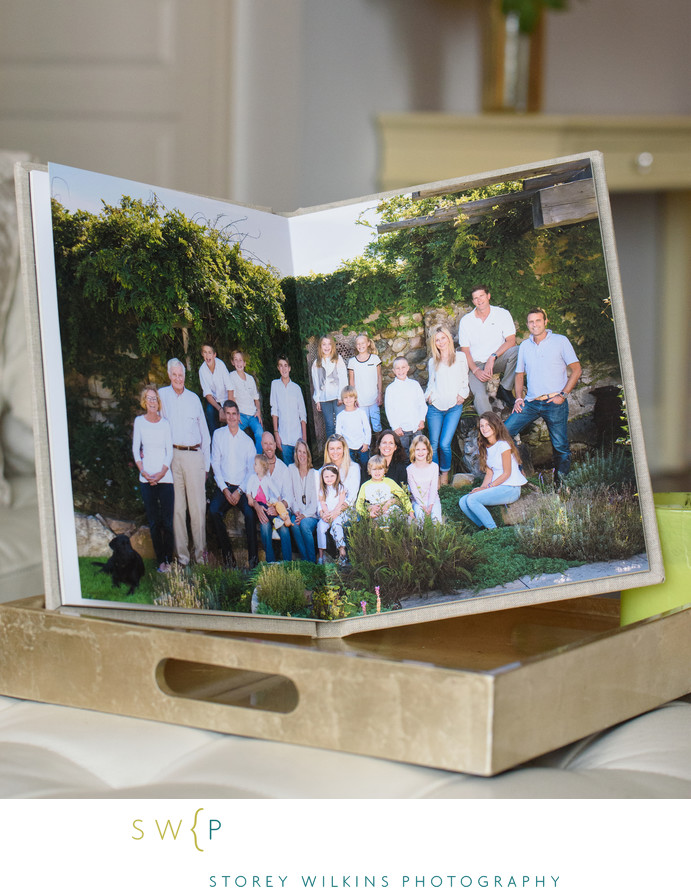 WHAT TO WEAR
As you can imagine, the bigger the family group the more important it is to have some level of coordination in what you all wear. If there are too many colours, patterns and styles you won't connect with the faces as much and you won't like the photograph as much.
Thoughts on All White
On the other hand if everybody is in the exact same colour for example white, it can look nice and clean, but also less natural. If you like the look of all white then great go for it. It just requires a tougher level of coordination across the family. A good compromise is to wear white tops and jeans. That way everyone can usually find flattering styles that meet the colour criteria.
Three Colours
One of my favourite looks is to have every family member in one of three colours. I find that if there are more than three obvious colors represented across the group it adds a layer of chaos to the image. Here are some colour ideas to consider:
Blue, cream and pink: Stick to three colors maximum across everybody's outfits. For example, allow any shade of blue combined with any shade of white or cream combined with any shade of pink.
Blues cream and grey: These go really well together. An example of this would be jeans, t-shirts, button down shirts, summer dresses, as well as blazers and jackets. Pants would be jeans or dress pants. It also provides flexibility in terms of the fit as almost everybody has something in their closet that is flattering on them in those three shades.
Creams and pastels: There are many other colour combinations that work really well together and perhaps it could also be a factor of the environment where the photograph is taking place. For example if the photograph is being done at one of the Toronto parks where there is lots of greenery around then creams, blacks and soft pastels in any colour would look really nice together.
Navy and jewel tones: If you are gathering in a condominium party room, for example, those rooms tend to be quite neutral so any colour palette usually works well in that case. I often recommend colors like creams, navies, and other jewel tones.
Clothes to Avoid
The most important tip is that your tops should be as plain as possible.
Avoid wearing anything with bold patterns such as stripes.
Also avoid shirts that have big logos on the front. Logos or distracting artwork on the front of a shirt tend to distract the eye when you look at the photographs. If you see the design before you see the person's face it means that the shirt was too busy.
TIMING
Plan for 90 minutes of photography. It will take about 30 minutes to do the big group portrait. It will take another 30 minutes to photograph each individual family. The final 30 minutes are unscripted so that I can photograph some candid moments with your party in full swing. There will surely be some beautiful interactions with the family members that you will want to have captured naturally.
PRICING
Read more about my Toronto family portrait services and products.
FREQUENTLY ASKED QUESTIONS
You may find some helpful answers to frequently asked questions about the family portrait process. Contact me to request a session.